Recovery Services
Created in 2015, the Mayor's Office of Recovery Services works to give more people access to the support they need.
We used a highly localized, collaborative approach to address substance use and addiction in Boston. We also build key partnerships with City, state, and community partners. Our office is the first municipal recovery office in the United States.
COVID-19 resources
We put together a list of online resources for recovery support groups. You can also find information about COVID-19 testing and the COVID-19 vaccine on our website.
Contact

Scaling Up Recovery Services RFI
We have released a Request for Information (RFI) for providers who can help scale transitional housing and stabilization models for individuals experiencing:
unsheltered homelessness, and
substance use and mental health disorders. 
The Request for Information is now open, and responses are due by Monday, November 22, 2021, at 5 p.m.
3-1-1 for Recovery Services is the City of Boston's confidential 24/7 referral center for:
substance use treatment, and
recovery services.
Visit the 3-1-1 website or call 3-1-1 (617-635-4500) for help.
Access to Harm Reduction, Overdose Prevention and Education (AHOPE) is the City of Boston's harm reduction program and needle exchange site. The program provides a range of service to active injection drug users, including:
Integrated HIV, Hepatitis, and STI testing
free, legal, and anonymous needle exchange
supported referrals to HIV, Hepatitis, STI treatment
medical, overdose prevention education and training
risk reduction supplies to reduce the spread of HIV and Hepatitis C infection
risk reduction counseling
supported referrals to all modalities of substance abuse treatment, and
other services. 
The Engagement Center (EC) is a welcoming drop-in space for individuals receiving services in the New Market Square neighborhood. Opened in August 2017, the EC provides space for participants to:
connect to the many homeless and recovery support services offered by the City of Boston and partners, and
to spend time in a low-threshold, recreational atmosphere with wrap-around case management and support.
The EC offers a range of comfort items, such as portable toilets, water, coffee, and light snacks. Amenities include:
recreational space for socialization
access to TV, phone chargers, and quiets space for reading, and
workstations available for email access, applications, and meeting with housing advocates, counselors, or recovery coaches.
Participants can also receive nursing care daily. They can reconnect with their health insurance, make primary care appointments, and receive routine medical care as needed.
This is a six- to 12-month residential substance use treatment program. Entre Familia provides bilingual and bicultural, gender-specific, substance use disorder treatment to pregnant and postpartum women and their children. The program provides substance use disorders (SUDs) recovery services. Support is offered to pregnant and postpartum women who are 18 and older and Massachusetts residents.
Services include:
clinical screenings
assessments
referrals to medical and mental health services
residential care
comprehensive case management
childcare services
family treatment planning, and
referrals for specialized services to address developmental and behavioral difficulties and early intervention.
Mobile Sharps Team provides proactive sweeps in high volume areas. They respond to 311 calls for improperly discarded syringes in public areas. There are eleven outdoor kiosks for syringe disposal that are located in hard-hit areas.
Training on safe sharps disposal is given to:
Boston Public Schools
the Boston Housing Authority
the Parks Department, and
other City departments to improve collection and safety on city property.
Currently, the Community Syringe Redemption Program is being piloted in the Newmarket Square neighborhood to stipend peers who collect syringes. The program provides a low-threshold workforce opportunity for vulnerable residents.
The outpatient treatment program provides recovery services for those who have substance use disorders, including:
individual therapy
group therapy, and
case management.
Staff offer expertise in the treatment needs of those with substance use disorders. They provide care in a diverse, culturally-sensitive, and non-judgmental environment.  
Providing Access to Addictions Treatment, Hope and Support (PAATHS) is a one-stop shop. The program provides information for anyone looking for information about, or access to, substance use treatment services. That includes individuals, families, community partners, and other treatment providers. Residents can reach PAATHS by calling 3-1-1 or 1-855-494-4057.
Transitions is a 40-bed, evidence-based, short-term treatment program for adults focusing on:
relapse prevention

behavior modification

interpersonal skill development, and

re-socialization skills.
Facilitated client discussion groups meet daily. The groups explore life issues related to substance use.
Psychoeducational sessions provide clients information about:
physiological

psychological, and

sociological consequences of substance use.
We offer one-to-one, goal-oriented sessions. These sessions help clients choose a suitable placement for continuing treatment.
The 30-bed, residential substance use disorders (SUDs) recovery program allows for varied lengths of stay, with the average being four to six months. The program provides services for men who are 18 years of age and older. Services include:
case management
substance use counseling
criminal and legal advocacy
individualized service plans
both individual and group counseling
substance use education and relapse prevention
HIV/ AIDS education
tobacco and gambling cessation counseling
help with family unification, and
aftercare planning and referrals. 
The Youth Prevention Program was created in response to the Boston Youth Substance Use Prevention Strategic Plan. The plan was released in 2018.
The program focuses on supporting:
Boston stakeholders

community partners, and

residents.
We do this through four key areas:
Educational material and media messages to youth and their families

Health education around substance use and social-emotional learning.

Expanding engagement with all youth populations

Coordinating prevention efforts between public, private, and nonprofit sectors
What we've done so far
Former Mayor Martin J. Walsh created the Mayor's Office of Recovery Services (ORS) in 2015. It's the first municipal office in the U.S. solely dedicated to addressing substance use and addiction. Walsh was also named Chair of a new national Task Force on Substance Abuse, Prevention, and Recovery Services by the U.S. Conference of Mayors. 
The Boston Police Department creates an Opioid Overdose Squad within the Drug Control Unit. This group responds to the scene of an overdose offering information regarding treatment and services.
Boston Health Care for the Homeless Program's Supportive Place for Observation and Treatment (SPOT) opens. This program prevents overdoses by monitoring individuals under the influence of opioids.
We launched a home visiting program in response to overdoses in residential settings. The program connects individuals and families through in-person, home-based outreach.
Our Street Outreach Team was launched in the Mass. Ave and Melnea Cass neighborhood.
Former Mayor Walsh appointed a Deputy Superintendent role at the Boston Police Department. This role is focused on substance use, mental health, and homelessness. 
We partnered with the Suffolk County Sheriff's Department to create a Recovery Re-entry Panel. This Panel within the South Bay Correctional Facility and the Nashua Street Jail in Boston was the first of its kind. 
We launched "311 for Recovery Services." The constituent service line is available 24 hours a day, seven days a week for treatment placements and information about service options.
We partnered with the Blue Cross Blue Shield Foundation of Massachusetts to conduct a citywide substance use prevention strategy.
Boston EMS added a Community Assistance Unit (Squad 80). This group responds to non-transport calls, including overdoses.
Our Engagement Center opened, creating a low-threshold drop-in space. The center gives people a safe place to spend time and connect with care during the day. 
The Massachusetts Medical Society Task Force on Opioid Therapy and Physician Communication published a report in support of a supervised injection facility pilot.
Along with EMS and Boston Fire, we launched the Post-Overdose Response Team (PORT). PORT helps people connect with services following a residential overdose.
We announced the completion of the Finland Building mural project. This project included our team as well as:
Former Mayor Walsh
the Mayor's Office of Arts and Culture
the Boston Public Health Commission, and
Boston University.
We launched the PAIR Initiative (Personal Advancement for Individuals in Recovery). It's the first program of its kind in the United States. We created PAIR in partnership with:
Doris Buffett's Letters Foundation, and
the Gavin Foundation.
Former Mayor Walsh pledged to rebuild the Long Island bridge. The goal is to create a comprehensive, long-term recovery campus on Long Island.
The City of Boston files a lawsuit seeking damages over the opioid crisis against:
opioid pharmaceutical companies

distributors, and

a doctor.
We launched the City's Youth Substance Use Prevention Strategic Plan. The plan reflects the diversity of Boston's youth and promotes equity across all neighborhoods.
Governor Charlie Baker establishes the Massachusetts Harm Reduction Commission. Mayor Walsh was granted a seat on this committee.
Former Mayor Walsh and his team visited harm reduction sites in Montreal and Toronto, including safe consumption sites.
Boston Public Health Commission Infectious Disease Bureau grants funded to-go, community-led syringe services for the first time. 
Boston becomes one of the first cities in the United States (along with Chicago) to offer comprehensive drug checking through a mass spectrometer through AHOPE
The City of Boston releases the Mass / Cass 2.0 Strategic Plan. The plan builds a more coordinated approach to:
public health
public safety, and
quality-of-life issues in the Mass / Cass neighborhood. 
The Boston Police launched its Street Outreach Unit. The unit creates alternatives to arrest for people experiencing:
mental health
substance use, or
homelessness.
We created a "Comfort Station" due to COVID-19. The outdoor space provides access to:
bathrooms
handwashing stations
masks
harm reduction supplies, and
nursing care.
We moved harm reduction drop-in services entirely outdoors due to COVID-19. We continued to provide safer use supplies, naloxone, testing, and referrals.
The Boston Fire Department instituted a pilot alternate response program, Delta 21. The program helped combat the opioid crisis in the Melnea Cass Boulevard and Massachusetts Avenue area.
Boston EMS launched the "Leave Behind Naloxone" program to combat the rise in opioid overdoses. Naloxone is now left on scene with participants after an opioid overdose occurs.
Our youth campaign, CopeCode Club, launched to support Boston youth. The goal is to help young people identify healthy ways to cope with stress and stressful situations.
First responder initiatives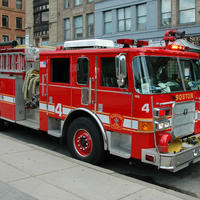 Fire operations
We co-led the Post-Overdose Response Team (PORT) with the Boston Fire Department to provide:
education
overdose prevention and Narcan, and
access to care to families and individuals following an overdose in a residential setting.
Emergency Medical Services
EMS leads the Community Assistance Team (Squad 80). The team is designed to rapidly respond to individuals on the street.
EMS also recently put in place a program that leaves naloxone behind at the scene of an overdose for bystanders or those that refuse transport.
Boston Police Department
The Boston Police Street Outreach Unit has expanded to create a centralized system for MH/SUD support. The unit is trained in recovery coaching and crisis intervention. Our goal is to enhance community engagement efforts.
Get involved
Everyone has a role to play in ending the addiction crisis. Here are some ways to get involved.